We believe that when women get together, their power can heal our world. We want to reconnect the women of Palestine to each other and to our land. Healing our homeland is a safe space for women and children in the Gaza strip.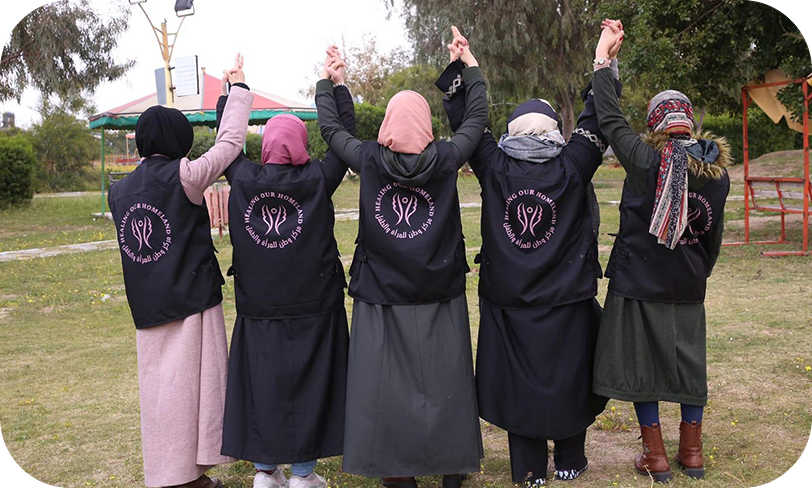 We are not putting a band-aid on suffering and oppression. We are digging to our roots, cutting out the toxic growth, and regrowing stronger than ever. The Palestinian people deserve the right to self-determination as demanded by the basic principle of equality. Palestinians should not be expected to depend on foreign aid that may or may not come, for survival.
Healing our Homeland initiates targeted and skillful interventions that systematically raise awareness, within Palestine and in our global community. We do this by providing resources and services to educate, empower, and elevate women and children. We are shining a light on the impacts of our collective trauma and acting to stop the inheritance of oppression and shame. We are fulfilling our ethical duty of empowering the disempowered.
By raising awareness of women's issues and supporting individual healing we will support coherent relationship building and heal the individual, collective, and intergenerational trauma.
We are bringing this community movement of healing to reject the reactive "othering" that increases our fragmentation. We are embracing the urgency to reject oppression and we are doing it by healing from within. As we connect with each other and heal our mind, body, and soul we will break the shackles of oppression.
God willing.
Services we provide
We provide services and support for individual healing journeys online and at our Gaza-based Healing Unit. All our services are free of charge. We provide mental health services, yoga & movement, child development, and community/educational initiatives. Day to day, what we do is trauma-informed and customized to the needs of the communities we serve. We want to ensure our resources reach as far as possible, so we interact directly with the most vulnerable members of society to understand their needs so that we can support and empower them the best we can.
We aim to initiate targeted empowerment and educational programs on issues that impact women, such as but never limited to gender-based violence, period poverty, mental health, self-care, and suicide. We advocate for policies that empower and support women's rights.
We are encouraging leadership in women and girls so that they can impact their community. Our aim is to provide regular community events and activities, in Gaza and beyond, with the aim of empowerment, education, and emotional support. With your support, we will get there.
Healing with our children
At Healing our Homeland, we know that our children are our future. We must empower them now, to create strong leaders for our homeland.
We are here to create a safe and accepting place for them to simply be. We will give them access to the tools they need to heal. We will offer them the knowledge that will empower change.
At our Healing Units, we will have a child development area for children to explore during their caregiver's appointments. We provide various emotional intelligence and enrichment activities for the children during their visit. We hope to ease the Palestinian mother's worry about leaving her children, exacerbated by the constant threat of a merciless attack by the occupation forces, by creating a space for mother and child to heal together. We aim to provide tools for growth and healing to continue at home. Our focus is on fostering respectful relationships and awareness of emotional intelligence.
Achieving health and wellbeing for all will be strongly impacted by the extent to which women and children are empowered to practice self-care. Practicing self-care is not always easy when living under an apartheid regime. We strive to provide services and events, in-person and online, that will support self-care and increase accessibility.
We are investing in the safety and empowerment of Palestinian women and children.